Mugs' deep history with yoga and her knowledge of philosophy and sharing of spiritual stories was so touching. Her book Letters from the Yoga Masters was so useful.
I had no idea what I was in for til the books came in the mail…the spiritual aspect turned out to be exactly what I needed.
They gave an abundance of knowledge about yoga philosophy, asanas, lesson planning, Sanskrit, kriyas, mantras and meditation. But to me the best advantage of my studies was that I gained deep faith in myself.
It is rare for me to be this certain of a 10/10 for anything but I absolutely feel I have been taught the skills needed to begin to teach yoga.
Everything in the program has a perfect process, everything was perfectly planned. I am so happy right now! I didn't really know what to expect and I got more than I could ever imagine.
I can't believe how far we have all come in this immersion program. It has truly been one of the best experiences of my life and it has made me a better and happier person moving forward.
I really appreciated the structure and scaffolding that it provided. The design is brilliant. You had us face our fears from day 1 by teaching one-on-one until ready to teach to larger groups. The support and guidance you provided was amazing.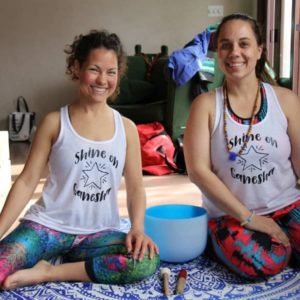 SOYA's 200 hour Yoga Teacher Training Program.
"I connected with this group in such a short period of time, I was wowed by the Sanskrit pronunciation and ability to give direct cues after only a few days of training. As much as I want to go home, I don't want to leave!"