Getting in the Groove: Relaxation as a Portal to Healing
By Jools Andrés, BA, SOYA Lead Trainer, E-RYT 500, YACEP, Yoga Therapist
How many times in a day do you have that angst-ridden feeling that you aren't doing enough? Your check list is long, you're being tugged in multiple directions, and you feel ungrounded and inefficient, if not outright overwhelmed. You may feel exhausted, but even so, you aren't sleeping well. You may feel guilty that you haven't achieved what is expected of you – that you aren't "enough."
Experience as a yoga teacher tells me that a high percentage of our students are also in similar states. Our North American lifestyles ensure that we are exposed to chronic high-stress conditions that manifest both in the tissues and systems of our bodies, and, by extension, in our relationships at home and at work. The conditions we find ourselves in relate to our ongoing behavioural patterns. In yoga-speak we can look to the term samskaras to understand our inborn tendencies and habits and their effects; samskaras relate to impressions, or "grooves" formed by past, usually unconscious, events and resulting actions, and through years or decades of repetition the grooves can get very deep, indeed. In order to change we need to be able to see and know our samskaras though observation and reflection, which can then lead to transformation through action.
Observation: We can't change something that we aren't aware of. Through our practices we teach ourselves to notice physical feelings, such as where tension flares or accumulates in our bodies. When we pay attention we notice repetitious, self-destructive thoughts and how they can hold us in their grip. We learn that we can change our physical and mental patterns and evolve positively. Bit by bit we develop the capacity to engage deeply with our senses and emotions while also finding ways to feel safe.
Reflection: When we feel particularly fearful, depressed, or spent it helps to take a moment to review what led to those feelings — what the samskara looks like. It can help to write down what comes up through your self-inquiry. For me some of my most anxious and disruptive feelings arise when I am late or can't find something I need, so I have learned to give myself lots and lots of time in these areas so the old patterns don't resurface.
Action: When aware of unpleasant feelings and their triggers — and how we have developed samskaras and loop through them over and over — we can see the source of our suffering and be more caring and kind toward ourselves. We can gradually make the grooves shallower and easier to disengage from. Over time we develop new beneficial samskaras that enable us to respond consciously and positively to the unavoidable ups and downs of life.
The underlying principle to begin this process is relaxation. We learn techniques, experience their effects, and develop and sustain a practice to become adept at just chilling, which is not always easy at first. Fortunately, as yogis the value of practice is known to us. Through learning from experienced teachers, engaging in continuous practice, and partaking honest self-study we see little shifts and continue on to develop our abilities further. And further. We discover that there are no barriers to our learning. At over 90 years old master cellist Pablo Casals still practiced several hours each day. When asked why — after all he had achieved and maintained world fame for many decades by then — he replied, "Because I still see some improvement." It is the same for anyone who practices regularly.
Restorative yoga, meditation, and simple pranayama practices provide an ideal wholistic training ground for down-regulating our stress responses. As we all know, being deeply relaxed and tension-free is very pleasant, and the bonus is that it is also where true healing takes place. Because of the profound results restorative yoga and yoga nidra (yogic "sleep") bring, they are beautiful to practice and wonderfully rewarding to teach. We show ourselves through embodied practice that we can change our states and experiences. Through perseverance and patience we start to administer daily practices to relax ourselves, taking ownership of our health and wellbeing. This may be in a well-propped restorative pose with a guided yoga nidra download, sitting in silent meditation, or fifteen minutes of chanting while walking. If our work uncovers a samskara that points to feelings of self-worth being based on being busy and productive, we can — and do — change that.
Paradoxically, the way to get more done, to get closer to that place of santosha or contentment with our lives, is to do less. A lot less.
© Jools Andrés, 2019. Reprinted with permission.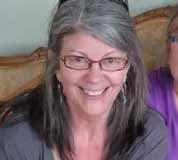 Jools Andrés is leading the SOYA 200 and 300 teacher trainings in Vancouver area. She teaches 35-hour Restorative Yoga Foundations certificate programs, eligible for Yoga Alliance continuing education credits. Her next programs are October 25, 26, 27, November 8, 9, 10 2019 in Vancouver, BC, and April 17, 18, 19, May 1, 2, 3, 2020 at Breathe Yoga Studio in Sorrento, BC. Please see joolsandres.com to learn more.