Letters from the Yoga Masters: A yoga retreat with Mugs McConnell
Sept 29 – Oct 1, 2017. Explore some of the beautiful, deeper teachings of yoga found within the book written by Mugs McConnell, "Letters from the Yoga Masters: Teachings Revealed through Correspondence from Paramhansa Yogananda, Ramana Maharshi, Swami Sivananda and Others". (all new teachings introduced since the last retreat)
Learn from the Yoga Masters of the Past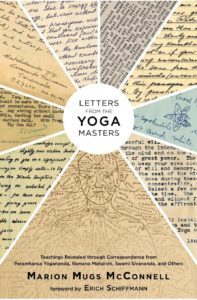 Deepen your practice and take it to the next level. This retreat is based on practices in Mug's book "Letters from the Yoga Masters: Teachings Revealed through Correspondence from Paramhansa Yogananda, Ramana Maharshi, Swami Sivananda and Others."  Mugs shares techniques that her teacher, Dr. Hari Dikman was taught by these Yoga masters, bringing them to life so you can feel the experience of them.
Hari 
 was a Latvian man who began his yoga journey before World War II. These yoga masters wrote him letters full of rich yoga techniques so he could master yoga from a distance. During and after the war Hari taught yoga in DP Camps (camps for displaced persons) until Paramhansa Yogananda was eventually able to bring him to the United States, where Hari resided until his death in 1979.  The letters from these yoga masters were the "textbooks" Hari used to teach Mugs.
The retreat begins with dinner on Friday and ends Sunday with lunch. Each day is rich with meditation, pranayama, asana classes and stories of yoga.
Vegetarian meals and shared room with bath are all included at Sorrento Centre.
What will we learn?
Each day will be filled with a joyful practice including a variety of asana, pranayama, mudra, meditation, mantra and pratyahara. We will explore various techniques from Letters From The Yoga Masters allowing time for questions and exploration.  Stories from these masters will be explored including those on astral beings, spiritual beginnings, the power of swara yoga, and more..
Retreat Rates:
$425 + gst.   Fees included all meals, shared* accommodation and 15 hours of yoga asana, pranayama, meditation and philosophy discussion.  A 25% deposit of your tuition is required with registration.
*Retreat Cost for a private room is $525 + gst. RV camping options available. Please inquire.
Retreat Schedule:
Friday 6:00pm Dinner followed by an evening session until 9pm
Saturday 7am Meditation and pranayama followed with breakfast
Saturday 9am-12:30pm Asana and stories with deeper practices followed with lunch at 12pm
Saturday 3-5:30pm Asana and stories with deeper practices followed with dinner at 6pm
Saturday 7:30pm open questions & meditaton followed by relaxed social together
Sunday 7am Meditation and pranayama followed with breakfast
Sunday 9am-12:30pm Asana and stories with deeper practices closing the retreat with lunch at 12:30pm
 Location:    Sorrento Centre, 1159 Passchendaele Rd, Sorrento, BC
For Mugs!
I recently had the good fortune of being able to attend my very first Mugs McConnell Sadhana Retreat "Letters from the Yoga Masters  –The Life of a forgotten Yogi".  It was an honor to be able to listen to the beautiful stories and teachings passed down to Mugs taught from such a high calibre level and truly from her warm heart. Mugs is a radiant rainbow!
Marion is a true Teacher that goes above and beyond and believes in the sharing of her information for everyone. Mugs makes a beautiful delivery with her teaching theory and material and shares her years and wealth of knowledge openly, the asanas are beautifully applied in a delicious way and artistically,,, like a painting.
Of all my experiences, I must say this retreat filled my soul and helped with making a huge shift. The meditations, chanting along with mudras were lovely and applied together in a beautifully woven story. I will never forget this weekend with this lovely teacher. Thank you Mugs.
Forever grateful ~Namaste
Thank You for sharing your knowledge of Yoga. Your joyful spirit filled the room teaching us with Love and Consciousness allowing us to see the Light.
I enjoyed the past weekend immensely- both getting to know you and learning from your book.  I'm very excited for you and the world with your book coming out. Namaste.
Thank you for the wonderful weekend of learning.  I have been practicing and teaching yoga for many years now and the message has been coming to me a lot lately that I need to go deeper.  I am so blessed by the teachings you shared.  They are taking me to another level of awareness, another level of learning, another level of Truth.  Another veil is being removed.  Thank you for taking me deeper.
Thank you Mugs for everything you offer us, teach us, show us and guide us to, always being the North Star in the quest for knowledge which turn out to be more questions…love to you! 
Oh Mugs thank you so much for such a weekend this was. I am moved that I got to share in what is truly a momentous occasion! I know that was a skiff off the surface of the wisdom and I am looking forward to your book and future teachings.
I hope that you will consider joining us at Pranava Yoga once again sometime in the year to come, though I am sure it will be a busy one for you. I will make any weekend available for you!
Just wanted to get back to you with a response and a big THANK YOU for a wonderful retreat at Sorrento this past weekend!
The setting was lovely and the weather was particularly helpful for further "illuminating" our physical beings! The vegetarian meals were delicious and the food abundant. Everything was farm-fresh, well-prepared and (I suspect) organic!  I didn't have to miss out on anything as there was a gluten-free option available throughout the menus over the entire weekend—what a gift and what a treat! And speaking of treats: the desserts (how about meringues with blueberries and whipped cream?) were fabulous!
The yoga retreat itself was very well-organized and, therefore, relaxing, despite the large amount of information shared. Marion (Mugs) McConnell's careful timing of/for the various portions of each session and her attention to detail gave shape and substance to what could have been (for some) very abstract and hard-to-grasp concepts. She took the time to explain and answer questions with regard to subtle and precise techniques. Mugs' years of solid practice, combined with her natural and unassuming manner, lent real substance to the finer points of meditation and pranayama practices. Her quiet expertise allowed each participant (whatever the degree of his or her background in yoga) to experience a tangible measure of growth and understanding. I loved the Moon Salutation/vinyasa and that the exercise with the three hand mudras to focus on the three levels of breathing — belly, ribs, chest (or lower, middle and upper lungs) were very physically tangible for me–I really felt it, the focus worked! Thank you!
Despite the complexities of the teachings and the nuanced answers provided by these  masters to Hari's precise questions, Mugs was able to present the material in a way that all could apprehend and that allowed each person to move deeper into his or her own practice.
I think Mugs' forthcoming book Letters from the Yoga Masters about her teacher Hari Dickman and the techniques he learned from the various yoga masters will prove to be a most important learning resource for all aspiring yogis in the years to come. In her steadfast and humble determination to live her practice and spread the peace that yoga may bring, Mugs is, indeed, a worthy role model that women, especially, (but men, too) may look to when moving along on their journeys.
It's nice to have a strong sweet woman at the front of the room! — Thank you, Mugs, for all you do.