SOYA annual retreat with Dr. Lorin Roche, PhD and Camille Maurine June 5-7, 2020
The SOYA annual retreat is June 5-7, 2020 where we celebrate 25 years of bringing authentic yoga teachings to you at Sorrento Centre, Sorrento BC!
To honour this great event, we welcome Dr. Lorin Roche, PhD and his wife Camille Maurine from California in the theme of Meditating in the Body of Love.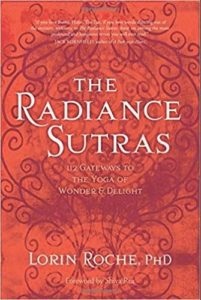 Dr. Lorin Roche will reveal for us the Vijnana Bhairava Tantra, an ancient scripture beautifully rooted in love. Dr. Roche shares his interpretation of this text through his book The Radiance Sutras. He is on the frontline as a meditation teacher awakening consciousness everywhere, in all places, in all times.
His wife Camille Maurine is a meditation mentor, dancer and writer, internationally renowned for her integrative energy practices. She is the author of Meditation Secrets for Women and Meditation 24/7.
Enjoy getting to know Dr Lorin Roche a little more with this interview with Deepak Chopra.
HERE IS A GLIMPSE into the weekend June 5-7, 2020! 
(Registration Opens January 1, 2020 at 6am)
Friday June 5th: Registration begins at 12noon.
Friday 3pm and 4:15pm Asana Classes themed to the Radiance Sutras and led by SOYA Faculty!
Friday night 7-9:30 pm The Three Loves of Shakti
For people who live in the world and have busy lives, meditation is a dynamic flow of resting, healing, and rehearsing future actions. This is the inner asana sequence of meditation, antar anga. The life force, pranashakti, is always engaged in healing, recharging, and evolving our bodies. When we make friends with prana, then meditation has a quality of effortlessness and naturalness. You will have a chance to explore a variety of delightful and effortless meditation practices.
Saturday 6:30am Asana Class themed to the Radiance Sutras and led by SOYA Faculty
Saturday 9:30 am to 12:30 pm Moving with Your 21 Senses
You don't just have 5 senses: vision, hearing, touch, smell, and taste. You also have senses of balance, joint position, movement, muscle stretch, temperature, hunger, oxygen content in your blood, and others. In yoga, the senses are called the indriyas, the companions of the divine, for each sense informs us of what is going on on the world, in this divine universe, of which our bodies are a part. We will spend the morning in motion, savoring all kinds of spontaneous movement as we practice inhabiting the richness of our sensory world.
Saturday 2:30 pm to 4:00 pm Four Levels of Mantra
Mantra Yoga describes four levels of speech, from ordinary sounds made with our vocal cords, to inward listening, to subtle beholding of a mantra, to the transcendental. Thus, Sanskrit is designed to be listened to out loud, also as a whisper, inwardly as a soft pulsation, heard as a barely-there vibration, and as a lively silence. We will explore these levels of sound and perhaps add several more transitional levels. All mantras are said to emanate from OM, and OM is defined as the primordial YES, the fundamental vibration of joy permeating all creation. You will have a chance to discover, invent, and develop mantras that you love so much you delight in being with them.
Saturday 4:15 pm Asana Class themed to the Radiance Sutras and led by SOYA Faculty!
Saturday evening 7:30-9:30 pm At Play with The Radiance Sutras
The Vijnana Bhairava Tantra presents 112 doorways to ecstatic awareness of the life force. Lorin's version of the text is called The Radiance Sutras. We will be playing around with the text in both Sanskrit and English, letting ourselves be surprised as we discover what is resonating in our bodies. Through play and improvisation we find our way. We each need four or five different meditation techniques to refresh ourselves and match our inner experience as we live our daily lives.
Sunday 6:30am Asana Class themed to the Radiance Sutras and led by SOYA Faculty
Sunday morning 9:30-12 noon Customizing Meditation to Fit Individual Need
Unlike asana, meditation is almost invisible. You don't know what a person is actually doing to themselves inside, or what they are experiencing, unless you get the student talking, and listen. Just as standard asana needs to be modified to suit each individual body, so does meditation. If we realize meditation is an internal asana flow, in which pranashakti is taking care of our needs, then we understand that a healthy practice is one that honors individuality. In this session we will explore the kinds of "modifications," or corrections that meditators need. But just like asana, most meditators are unconsciously doing subtle moves inside that are damaging and weakening, and lead to long-term cumulative injuries.
12-12:30pm Closing of Retreat
TUITION for the Retreat:
$325 + gst up including a copy of The Radiance Sutras. A non-refundable deposit of $73.75 + gst will be processed at the time of registration to hold your spot, with payment in full required by April 30th.
April 30th is the last day for any refunds.
Meals & rooms/camping available. See below for details.
Print our Radiance Sutras Retreat Poster and share with your friends.
Directions and what to bring.docx
 It is best to  fill in the Registration Form from a computer rather than a phone or ipad. If you press submit and it doesn't go through, we find it works if you start over with a new form. Be sure to check for your confirmation email once you complete the registration process. If you do not receive confirmation, please email info@soyayoga.com to be sure your form came through.
Sponsors for our Annual Yoga Retreat