SOYA annual retreat with Dr. Ananda Balayogi Bhavanani June 1-3/18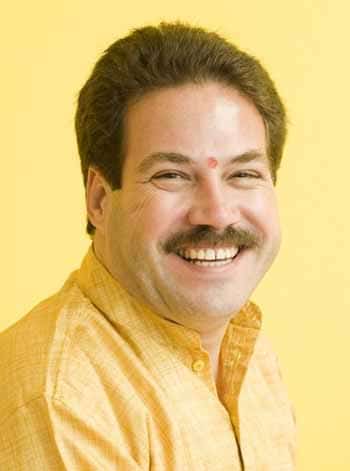 The SOYA annual retreat welcomes Ananda Balayogi Bhavanani from India! June 1-3, 2018 at Sorrento Centre, Sorrento BC. Registration will open January 1st at 6am!  This annual retreat is a rare opportunity to study with Yoga Masters, refining your practice and reuniting with your SOYA family while immersed in yoga community.
Ananda Balayogi Bhavanani – "Experiencing the Subtle Anatomy of Yoga"
Join us for a weekend of classical yogic wisdom rooted in medical research, presented in a delightfully understandable fashion.
The weekend retreat will include:
asana practice based on the classical teachings of the Gitananda lineage
pranayama techniques to utilize our lung capacity for higher states of consciousness
mudras to change the flow of energy within us to invoke the energies of the universe
the 12 chakras or vortices of energy that keep us integrated as a human being
the panchakoshas – the five layers of our being held together by prana
Dr. Ananda will be bringing his DVDs on Chakras, Mudras, and Pranayama, as well as his books to sell at the SOYA annual retreat. This link will take you to the various publications. If you have some specific interests from the list, email us and he will be sure to bring them along!
 Dr. Ananda is a Medcial Doctor, Yogacharya and Certified Yoga Therapist with IAYT (International Association of Yoga Therapists). He is Director CYTER in the Sri Balaji Vidyapeeth University and Chairman of ICYER at Ananda Ashram. He continues to carry on the teachings in pranayama, mudras and yoga therapy as established by his father Dr. Swami Gitananda Giri. He is an internationally renowned teacher and therapist based in Pondicherry, India.
TUITION for the Retreat:
$295 + gst up to March 15th. A non-refundable deposit of $73.75 + gst will be processed at the time of registration to hold your spot. May 1st is the last day for any refunds. Meals & rooms/camping available.
Print our Dr Ananda Poster and share with your friends.
The SOYA Retreat is held at Sorrento Centre, 1159 Passchendaele Rd, Sorrento, BC.
Rooms and meals are reserved directly with Sorrento Centre (or alternate locations). You can reserve your room online Jan 1st at this link – SORRENTO ONLINE BOOKINGS. Alternative accommodations are described at the bottom of this page.
The SOYA Retreat is held at Sorrento Centre, 1159 Passchendaele Rd, Sorrento, BC. The main hall is across the road at Sorrento Memorial Hall. Sorrento is located on the TransCanada Highway 20 minutes west of Salmon Arm and 45 minutes east of Kamloops. See google map http://www.sorrento-centre.bc.ca/admin-location-maps.html .
Accommodations, Meals and Airport Transportation are booked directly with Sorrento Centre AFTER Jan 1.  You can reserve your room online Jan 1st at this link – Sorrento Online Bookings.
The office will be closed until Jan 2nd so it is best to reserve online.  If you prefer, you can call 250-675-2421 (Toll Free 866-694-2409) or email registrar@sorrento-centre.bc.ca.   All reservations will require a $100 deposit with the balance paid in May. Alternative accommodations are described below.
MEALS at Sorrento Centre:
Delicious vegetarian meals made from fresh vegetables from the Sorrento Centre farm! Dietary needs are accommodated by a loving staff! Breakfast $10, Lunches $12, Dinner $18. Sunday Brunch $16. To reserve see details above. 
ACCOMMODATIONS at Sorrento Centre: 
LODGES: (all rooms have private bathrooms): Linens & towels provided. Single rooms with a single bed ($69/night). Shared rooms with a double and a single bed ($99/night for two). Suites with a king or queen bed, hide-a-bed, a stove and small fridge ($139/night for two, $19 for third person).
CABANAS: What a deal! If you are looking for an economical alternative for accommodation, share a Cabana! Sorrento Centre will have a list of people wanting to share! $75/night for 5 people. If you put yourself on their "share list" and the cabana isn't filled, you still get it for $15/night per person! Great deal for these small cottages which are an alternative to camping, with 5 beds per cabin. Bring your own linens and cooking supplies. No running water – use the campground washrooms and showers. Pets allowed for $10 per night.
CAMPING -Tent and RV: RV sites with full hookups ($45/night), partial hookups ($35/night), and tenting sites ($28/night). Basic campground washrooms and showers are available. There are no cooking facilities in the campgrounds so bring your own stoves, etc. Pets allowed for $5 per night.
Alternative accommodations within walking distance of Sorrento Centre: There are still places to stay if Sorrento Centre is full!
– Shuswap Lake Motel http://www.shuswaplakemotel.com
– The Sorrento Inn http://www.booking.com/hotel/ca/sorrento-inn.en-us.html
– Maples B&B http://www.shuswapmaples.com
Accommodations a 10 minute drive away:
–    Quaaout Lodge www.quaaoutlodge.com
–    Squilax HI Hostel (renovated train cars)  http://www.hihostels.ca/westerncanada/173/HI-Shuswap_Lake_Squilax_General_Store___Hostel.hostel      email: shuswap@hihostels.ca
TRAVEL
Flights: Westjet now flies into Kelowna AND Kamloops.  Airport Transportation: Sorrento Centre offers an airport shuttle from Kamloops for $80.00 and from Kelowna for $115.00 (one way).
Driving: Sorrento is 147 km North West of Kelowna, and 80 kms East of Kamloops.