SOYA annual retreat with Doug Keller June 2-4/17

The SOYA annual retreat welcomes Doug Keller. This retreat is a rare opportunity to study with Yoga Masters while immersed in community, refining your practice, and reunited with your SOYA family. Past guest teachers include Sri Dharma Mittra, Erich Schiffmann, Rod Stryker, Mark Stephens, Ganga White, Tracey Rich, Sarah and Ty Powers!
 DOUG KELLER – THE FABRIC OF AWARENESS:
The Therapeutic Wisdom of Yoga Discovered Through Practice
Saturday night with Carla Wainwright leading us in the Breath of Bliss!
Go to The Fabric of Awareness SCHEDULE to view the program for the weekend.
For more information view Directions to SOYA RETREAT 2017 and what to bring
TUITION for the Retreat: $295 + gst up to March 15th. A non-refundable deposit of $73.75 + gst will be processed at the time of registration to hold your spot. May 1st is the last day for any refunds.
The SOYA Retreat is held at Sorrento Centre, 1159 Passchendaele Rd, Sorrento, BC.
Rooms and meals are reserved directly with Sorrento Centre (or alternate locations). You can reserve your room online Jan 1st at this link – SORRENTO ONLINE BOOKINGS. Alternative accommodations are described at the bottom of this page.
DOUG KELLER teaching THE FABRIC OF AWARENESS: The Therapeutic Wisdom of Yoga Discovered Through Practice
"The expansion of yoga beyond the practices taught in more ancient times is, to me, an expression of the freedom at the heart of yoga and of consciousness itself. This freedom was described in tantric philosophy as not simply 'liberation' or 'moksha,' but 'Swatantrya' — the freedom of Consciousness to expand and create through its own inspiration. Yoga as an expression of this is not bound to antiquity, but inherently contains the inspiration to evolve for the sake of the good." Doug Keller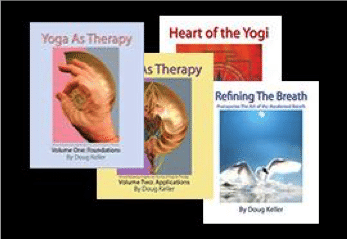 Join us for a weekend of asana practice with some precise work exploring the fascial threads of connection in specific areas of the body (hips, shoulders, etc.). Expect to spend time devoted to pranayama, meditation, bandhas, philosophy, and principles of alignment from the Anusara perspective. Yoga as Therapy will be woven throughout each session. To Print the Schedule, click  The Fabric of Awareness SCHEDULE final8x14
The Fabric of Awareness: The Therapeutic Wisdom of Yoga Discovered Through Practice
We will begin with the upper body — the neck, shoulders and arms — to explore the fascial lines or 'sutras' that govern them, and variations in poses that promote the health of the hands, wrists, elbows, shoulders and neck; what their proper alignment and actions are in ALL classes of poses, both weight-bearing and non-weight bearing (which is always a source of controversy among teachers and practitioners), and what the most common therapeutic problems are that we encounter in these areas, the anatomy of these problems, the obstacles that they present in asana practice, and how they can be addressed through variations and with the use of props, particularly to support strengthening and healing.
This approach will be designed especially to be useful to teachers for providing effectiveness and clarity in their instructions, and for practitioners who want to more deeply understand and address pain problems they are encountering, or simply want to become stronger and better aligned through insightful practice.
Following the work with the shoulders, wrists, elbows and neck, we will turn to sacral and hip stability, along with problems in the low back. Issues surrounding the sacrum will be more deeply explored, and we will go through all classes of poses — particularly twists and backbending — with a focus on actions that bring greater stability of the sacrum and hips, while also addressing students who are very stiff.
Threads in the Fabric of the Arms: Beneficial Alignment and Action for the Shoulders
In this asana practice we'll explore the threads of connection from the hands through the wrists, forearms and elbows to the shoulders in a range of postures and variations. Effective alignment of the shoulders in asana, as well as variations for students who are either tight or hypermobile, are best understood by knowing and understanding these 'sutras' and how they function in asana.
We will explain these sutras and how they function in supporting the bones and movement, and will cover all types of poses — from the different arm positions in upright or non-weightbearing poses and stretches to those that are weight bearing, from Downward Facing Dog to simple backbends and forward bends — and cover the best hand, elbow, shoulder and shoulder blade alignment from the perspective of these sutras.
The Bandha Connection: A 'Cranio-Sacral' Understanding of the Bandhas in Asana Practice
The sacrum is the one bone in the body named after the 'sacred,' and it provides the foundation for both our embodiment in movement as well as a subtle pathway to self-awareness. Sacral stability and freedom are becoming key concerns in yoga, especially as injuries arise from both hypermobility in asana practice as well as tendencies to 'push' against our inflexibility.
The bandhas connect the actions of our head, neck and shoulders to the movement of our low back and sacrum, and yet this connection is overlooked in asana practice. This active practice will establish the connection between head and neck movement (and variations), freedom in the shoulders, and the health of the low back and sacrum as well as openness in the hips. It will be a very practical approach to reestablishing this connection in our everyday life as well as in our asana practice!
We will specifically cover sequencing for greater sacral stability, and specific work with proper actions in all classes of poses — particularly twists and backbending, as well as forward bending — that maintain sacral stability. We will keep an eye on the relationship of actions in the neck — both helpful and unhelpful — to sacral movement and pelvic and hip stability.
Foundations for Flight: The Lower Body, with Secrets of the Hamstrings and Extra Love for the Knees
Just as the first session explored the muscular connections through threads of the arms and shoulders, with their foundation in the hands, this session will connect to foundations in the feet, knees and hips. We will expand our perspective to include the effect of better actions in the hips and pelvis upon the health of the knees — giving special attention to the knees and the factors that influence their health. And we'll see how the hamstrings are not just there to be 'stretched' in our practice, but also can be used to help us with our low back and knee issues!
The Core and Sacral Stability in Hip Openings and Twists: Uddiyana Bandha
Hip openings and twists are an integral part of yoga practice; at the same time they present challenges for both the stiff and the hyper-mobile. We will cover some techniques for making better progress in these poses, particularly in preparation for sitting. And special attention will be devoted to stabilizing the sacroiliac joints, which often suffer from these poses – particularly twists. The essence of the actions that protect the low back and sacroiliac joints as well as facilitating satisfying openings and twists lies in Uddiyana Bandha, which we will explore deeply.
Breakthrough — The Emergence of the Deeper Yoga In Which Yoga and Christian Mysticism Merged
The 14th century saw the emergence of a new and deeper yoga, one that drew upon physical practices of old as well as incorporating elements of action, breath, sound and meditation developed within tantra from techniques borrowed from yoga. These appeared in and evolved through the texts of hatha yoga, and represented a deeper vision of the experience of yoga and its relationship to the life of participation in the world — and of the experience of awakening that brings us to it.
In the same centuries, there emerged a vision of Christianity and of the inner awakening represented especially by Meister Eckhart as well as by other Christian mystics. This vision and its development ran parallel to the developments within yoga in its understanding of the mystic's spiritual vision, and even contained elements among some of the mystics that resonate with the idea of the chakras. At the heart was Eckhart's articulation of the 'Breakthrough' within to the Divine, which transforms our outer life.
From our perspective centuries later we can begin to grasp how each development illuminates the other. From a discussion of this we can come to appreciate our yoga more deeply — including a deeper exploration into the chakras and the role of yoga nidra in relation to yoga and the chakras — as well as add dimensions to our spiritual perspective rooted in the Christian mystical tradition represented so well by Eckhart.
Saturday evening session: Breath of Bliss! With Carla Wainwright
The Breath of Bliss experience draws on the work of Advaita, Science of Mind, Tantra, and conscious, loving exercises which amplify your sense of wholeness. Through inquiry, participants develop self-awareness and radical self-responsibility moving toward a total awareness and the bliss that is aroused from allowing everything to be exactly as it is. In this place we remember that we are connected, resourceful and whole.
Doug Keller is a philosopher with a Master's Degree in Philosophy from study at Fordham University, specializing in the ancients and Christian mystics. He spent 7 years in the Ganeshpuri ashram and 14 years in the Siddha Yoga system. Gradually he gravitated to Iyengar yoga, and eventually the Anusara style. He was one of the first certified teachers by John Friend. Doug's passion for anatomy and physiology led him to focus on Yoga as Therapy, an evolving field that promises to be a vital part of yoga's future.
Carla Wainwright is a Doctor of Homeopathy and creatively integrates the principles of Yoga and Homeopathy to help unlock a student's deepest potential within. She is an E-RYT500 SOYA graduate and lead trainer for the SOYA 200 hour and 300 hour teacher trainings.
This retreat is valid for 14.5 hours CEUs (continuing education credits) with Yoga Alliance.
__________________________________________________
The SOYA Retreat is held at Sorrento Centre, 1159 Passchendaele Rd, Sorrento, BC. The main hall is across the road at Sorrento Memorial Hall. Sorrento is located on the TransCanada Highway 20 minutes west of Salmon Arm and 45 minutes east of Kamloops. See google map http://www.sorrento-centre.bc.ca/admin-location-maps.html .
Accommodations, Meals and Airport Transportation are booked directly with Sorrento Centre AFTER Jan 1.  You can reserve your room online Jan 1st at this link – Sorrento Online Bookings.
The office will be closed until Jan 2nd so it is best to reserve online.  If you prefer, you can call 250-675-2421 (Toll Free 866-694-2409) or email registrar@sorrento-centre.bc.ca.   All reservations will require a $100 deposit with the balance paid in May. Alternative accommodations are described below.
MEALS at Sorrento Centre:
Delicious vegetarian meals made from fresh vegetables from the Sorrento Centre farm! Dietary needs are accommodated by a loving staff! Breakfast $10, Lunches $12, Dinner $18. Sunday Brunch $16. To reserve see details above. 
ACCOMMODATIONS at Sorrento Centre: 
LODGES: (all rooms have private bathrooms): Linens & towels provided. Single rooms with a single bed ($69/night). Shared rooms with a double and a single bed ($99/night for two). Suites with a king or queen bed, hide-a-bed, a stove and small fridge ($139/night for two, $19 for third person).
CABANAS: What a deal! If you are looking for an economical alternative for accommodation, share a Cabana! Sorrento Centre will have a list of people wanting to share! $75/night for 5 people. If you put yourself on their "share list" and the cabana isn't filled, you still get it for $15/night per person! Great deal for these small cottages which are an alternative to camping, with 5 beds per cabin. Bring your own linens and cooking supplies. No running water – use the campground washrooms and showers. Pets allowed for $10 per night.
CAMPING -Tent and RV: RV sites with full hookups ($45/night), partial hookups ($35/night), and tenting sites ($28/night). Basic campground washrooms and showers are available. There are no cooking facilities in the campgrounds so bring your own stoves, etc. Pets allowed for $5 per night.
Alternative accommodations within walking distance of Sorrento Centre: There are still places to stay if Sorrento Centre is full!
– Shuswap Lake Motel http://www.shuswaplakemotel.com
– The Sorrento Inn http://www.booking.com/hotel/ca/sorrento-inn.en-us.html
– Maples B&B http://www.shuswapmaples.com
Accommodations a 10 minute drive away:
–    Quaaout Lodge www.quaaoutlodge.com
–    Squilax HI Hostel (renovated train cars)  http://www.hihostels.ca/westerncanada/173/HI-Shuswap_Lake_Squilax_General_Store___Hostel.hostel      email: shuswap@hihostels.ca
TRAVEL
Flights: Westjet now flies into Kelowna AND Kamloops.  Airport Transportation: Sorrento Centre offers an airport shuttle from Kamloops for $80.00 and from Kelowna for $115.00 (one way).
Driving: Sorrento is 147 km North West of Kelowna, and 80 kms East of Kamloops.
South Okanagan Yoga Academy, #281-3980 Squilax-Anglemont Road,
Scotch Creek, BC V0E 1M5  250-492-2587
Sponsors for our Annual Yoga Retreat