Master Class Yoga Retreat with SOYA
Join SOYA for our 5 day Master Class Yoga Retreat and deepen your teaching skills and practice. Retreat alongside yoga teachers who have come to upgrade their certifications. Learn from us, learn from them, and make new connections.
Taking a yoga retreat has physical, emotional and psychological benefits towards coping with the stresses of everyday life. For a yogi it is an essential practice to occasionally immerse oneself for a weekend or a week, away from distractions. Distractions draw our attention outward, away from our inner self. Over time these distractions may become stressful and even lead to illness. A spiritual retreat can quickly restore our inner balance and peace of mind. It can increase our dedication to our personal practice. It can create the space for immersing ourselves in pranayama, meditation and asana, spiritual study and quiet time – enabling us to go deeper.
The South Okanagan Yoga Academy and Mugs and Bob McConnell invi
te you and all yoga enthusiasts who wish to deepen their practice to join them at one of these sacred locations to meditate, breathe, study, rest and do asana together. Take advantage of spending time in retreat alongside yoga teachers from many pathways who have come to upgrade their certifications. Learn from us, learn from them, and make new connections.
Each morning begins at 6am with meditation, pranayama, mantra and asana before breakfast. Midday includes some special sessions for you to attend or you can take free time. Late afternoon and evenings include another session for asana, pranayama, meditation and chanting. You will receive a 38-42 hours of excellent instruction in various yoga techniques during these retreats. Asana classes will include themes such as chair yoga, wall yoga, a new perspective with inversions, opening your heart with backbends, Anusara, Sivananda, Gitananda, and more.
Private or shared accommodations (2 per room) with washrooms in each room are available at each location.  Meals are vegetarian, delicious and prepared with only the best ingredients along with lots of love.
The SEPTEMBER 24-29, 2017 retreat includes:
Daily morning and evening asana, Meditation, mantra, mudra and pranayama with various teachers.
Special sessions on:
How to Use Props Properly
Hands on Assists
Breath of Bliss (circular breathing)
This retreat allows you to have space in time for personal sadhana in this lovely location. There is a labyrinth to walk, hikes nearby in the Shuswap mountains near Sorrento, and a private beach for walking along Shuswap Lake.
Retreat cost: Including 5 nights shared room, 3 meals a day, 38 hours of yoga, and gst $1150. $1300 for a private room.
This retreat conveniently runs into a weekend retreat with Mugs, author of Letters from the Yoga Masters! Combine the two retreats for a wonderful 7 day experience! Check it out here.
A bit about the Teachers and their teachings: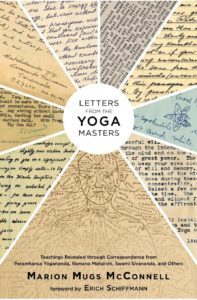 Mugs McConnell is a certified Acharya in the Sivananda system of yoga, and trained with Erich Schiffmann in his Freedom Yoga. She will share deeper teachings drawn from her book Letters from the Yoga Masters: Teachings Revealed through Correspondence from Paramhansa Yogananda, Ramana Maharshi, Swami Sivananda and Others. These teachings are drawn from many pathways including Natha Yoga, Gitananda and Sivananda Yoga.
Bob McConnell will share some teachings from the Tantric pathway in the lineage of Swami Rama of the Himalayan Institute. Tantra means "to blossom". The tantric breathing and meditations facilitate this process of blossoming and bring stability and balance to our 3 lower chakras. This provides us with the foundation to support our spiritual practice and not be held back by our past.  Asanas  are aligned with these meditative practices to help facilitate the movement of prana to various areas of the body that require healing. Bob will be at both retreats.
Carla Wainwright is a dedicated teacher to asana, pranayama and her personal practice. She is a co-owner of Chinook Yoga Studio and Carla Wainwright Retreats. Carla can find the most creative ways for you to use props and make your pose one of stability and comfort. She will teach you hands-on assists done with compassion and care to make your asanas feel that little bit more aligned. Carla is a certified teacher in the "Breath of Bliss" and will share a blissful journey with you at the Sorrento retreat.
These teachings and many more will be shared during the retreats.