Altars can be built anywhere, and so many things can inspire us in building one.
While moving into our Mexican winter rental accommodations, I noticed 3 nails already planted in the wall in a small corner of our apartment. Last summer, we received a thank you gift of three native pottery fishes from the Patzcuaro Lake area, and they were looking for a "home". Innocently, I hung them on the existing perches.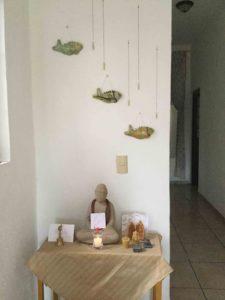 I had a hard time remembering the Sanskrit names of the five kleshas, or obstacles to enlightenment. During meditation one morning, the idea of writing both the Sanskrit and English names for each, and dangling them from fish hooks in front of the fishes would mean that I would see and hopefully remember the names for each klesha in no time. It also meant that the five impediments to my growing up were a constant reminder.
Buddha had to follow us from the old house. The perfect little table was moved under the fishes to ceremoniously receive the statue. Lovely cards from the last SOYA teacher training students in Mexico remind me of my gratitude at having spent more than two weeks with these fourteen very inspiring, dedicated now graduated alumni.
Flat stones gathered at the beach pay homage to Ganesha and Lakshmi, my beloved guides.
On the way to the kitchen early morning, I light the candle honoring God in Its multi-faceted forms.
Inspiration for creating an altar can come from so many different things around you. Relax, breathe in peace and see what will show up. You will be surprised.
Yours in Yoga, Latika.

Latika Pierrette Claude, SOYA, Kripalu, E-RYT 500, Latika is a SOYA teacher of philosophy in the 200 hour Mexico Yoga Teacher Training program.