LETTERS FROM THE YOGA MASTERS: Teachings Revealed through Correspondence from Paramhansa Yogananda, Ramana Maharshi, Swami Sivananda, and Others.  
Written, researched, and created with love by Marion (Mugs) McConnell & Foreword by Erich Schiffmann. Published by North Atlantic Books. Distributed by Penguin Random House.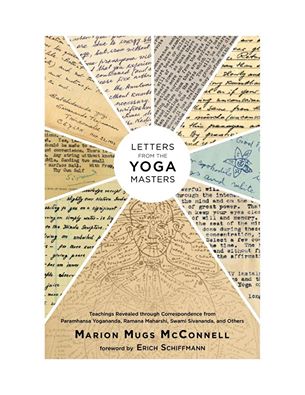 A Little About the Book.
Available worldwide at Amazon , Barnes and Noble, Chapters, The Book Depository, etc, or at your local bookstore like our lovely  Banyen Books and Yoga MCC Calgary!
Mugs McConnell shares in her book the techniques that her teacher, Dr. Hari Dickman was taught by yoga masters such as Paramhansa Yogananda, Ramana Maharshi, Swami Sivananda, Swami Vishnu Tirth, and many others.
Dr. Hari Dickman was a Latvian man who began his yoga journey before world World War II. Many yoga masters wrote him letters full of rich yoga techniques so he could master yoga from a distance. During and after the war, Hari taught yoga in DP camps (camps for displaced persons) until Paramhansa Yogananda was eventually able to bring him to the United States, where Hari resided until his death in 1979. The letters from these yoga masters were the "textbooks" Hari used to teach Mugs. Exploring the 8 limbs of yoga, the book includes teachings on ahimsa (non-violence), brahmacharya (celibacy/chastity), and Hari doing asana. The real depth of teachings lies in the practices of pranayama (breath work), pratyahara (withdrawal of the senses), dharana (concentration), dhyana (meditation), and samadhi (enlightenment). There are additional discussions on kundalini, life after death, the seven lokas, ashram life, Jesus as a  yogi, swara yoga, and more.
Mugs follows threads from letter to letter over several years of questions directed to several different yogis. She pieces together the practices for her readers, drawn from yoga masters during a span of over 50 years. The lifetime of a practicing yogi, Dr. Hari Dickman, is held within the pages of these letters, only to be revealed now through the inspiration and love of his last disciple, Mugs.
This intimate and insightful account of the life of Dr. Harry Dickman, referred to by Swami Sivananda as "the yogi of the West," features more than fifty years of correspondence between Dickman and well-known yoga masters such as Swami Sivananda, Ramana Maharshi, Paramhansa Yogananda, and almost one hundred others. Marion (Mugs) McConnell, Dickman's student, has created a brilliant and loving tribute to her teacher, who founded the Latvian Yoga Society in the early 1930s and later spread his knowledge in the U.S. with the blessings of Paramhansa Yogananda, author of Autobiography of a Yogi. Offering a broad range of information on yoga history, theory, and techniques from a variety of different paths, Letters from the Yoga Masters contains a treasure trove of previously unavailable material and presents detailed teachings about pranayama, mudras, diet, and much more, all interwoven with stories and personal anecdotes. Taken together, the rare correspondence and personal chronicles provide an unparalleled glimpse into the life of a yogi, the development of yoga in the West, and the ways that spiritual wealth is disseminated across generations.
Upcoming Events with Mugs on Letters from the Yoga Masters
If you are holding a book study group on Letters from the Yoga Masters, please feel free to email mugs.soya@gmail.com to arrange for one or two SKYPE calls to ask her questions as you explore the techniques.
Calgary, July 7-22, 2017, SOYA 200 hour Yoga Teacher Training, Harmony Yoga and Pilates Studio – see this site https://soyayoga.com/yoga-teacher-training/200-hour-yoga-teacher-training/200-hour-immersion/200hr-immersion-locations-and-dates/#calgary
Calgary, July 14-16, 2017, Pranayama and Meditation at the Canadian Institute of Therapeutic Yoga  info@canadianinstituteoftherapeuticyoga.com
Red Deer, August 26-27, 2017, Teachings from the Masters, contact info@reddeeryoga.ca
Latvia, Sept 16-17, 2017 – dzvkorns@gmail.com
Sorrento, BC, Sept 24-29, 2017, Master Class 5 Day Yoga Retreat –  see this site https://soyayoga.com/events/master-class-yoga-retreats/
Sorrento, BC, Sept 29-Oct 1, 2017, Letters from the Yoga Masters Retreat – see this site https://soyayoga.com/events/yoga-sadhana-retreat/
Yoga Alliance webinar online workshop – Oct 12, 2017 on Pranayama – details TBA
Vancouver, BC, Oct 12, 2017 Banyen Books, Letters from the Yoga Masters -Talk/Experience/Signing  contact events@banyen.com
Sydney, Australia Oct 20-22, 2017, International Yoga Teachers Association 50th Anniversary Conference. contact  http://www.iyta.com.au/2017-conference
Edmonton, AB Sept 28-30, 2018, Yoga Association of Alberta. Teachings from Letters from the Yoga Masters. Details TBA
(visit our events page and find retreats based on the teachings in her book)
A Little About Mugs.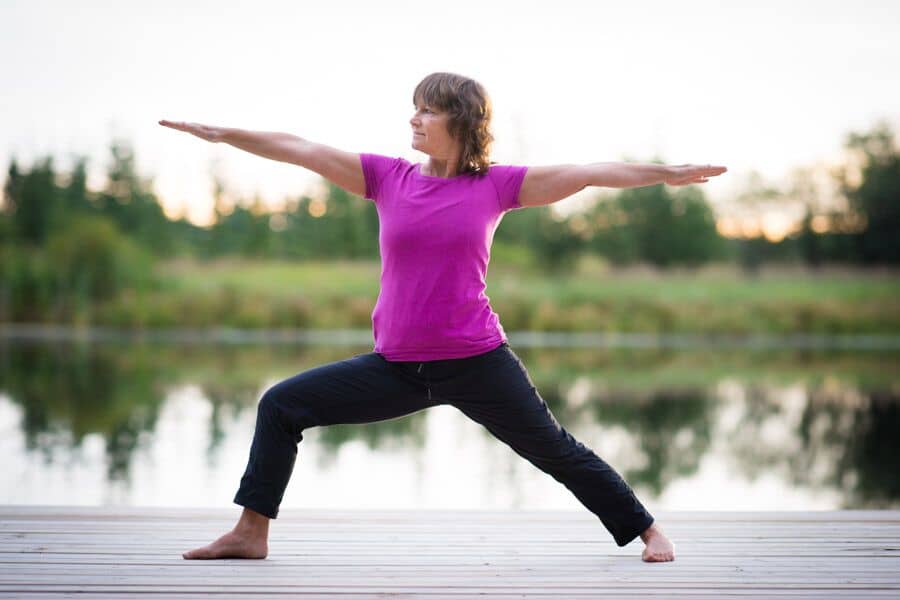 Marion, or "Mugs" to all who know her, is one of Canada's Yoga Pioneers. She is the co-owner of SOYA with her husband Bob.
Mugs' early training was in the Sivananda lineage under Swami Vishnudevananda. Following her time in the ashram, she was the last disciple of Sri Yogiraj Dr. Hari Dickman, whom her book is about. Over the years her teaching style has been greatly influenced by additional studies with Erich Schiffmann and Namadeva Acharya. Erich taught her the importance of love, and how every action can be an expression of love towards self and others. Namadeva played a huge role in her appreciation and understanding of mantra, which she often combines with mudra. Mugs has also enjoyed the teachings of others such as Mark Stephens, Rod Stryker, Friedel Khattab and Dharma Mittra.
Mugs is the director of the 200 hour and 300 hour Advanced SOYA Yoga Teacher Training programs and leads master class workshops. She is a member of the Board of Directors and the Standards Committee for Yoga Alliance and is the past Canadian Representative for the International Yoga Teachers Association (IYTA)(1982-2016). In 2012 she was awarded a Queen Elizabeth II Diamond Jubilee Medal in recognition of her lifetime contribution to the Yoga community in Canada and abroad.  In 2013 she was the recipient of a Certificate of Appreciation from IYTA in recognition of her contributions to yoga around the world, and in 2016 she received an Award of Appreciation from Yoga Alliance for all her committee work she has done with them. Mugs can be found traveling and teaching yoga with her husband Bob, their pug Carly and cat Lucy to various locations throughout Canada and their home in Mexico.
"Letters from the Yoga Masters is a beautiful written account of the relationship between student and teacher. Marion gifts us rich history and a clear sense of the yogic teachings that Dr. Harry Dickman (Hari) taught her as he learned from numerous Yoga masters. This rare look at a beautifully lived and spiritually very rich life is a must-read for all those on the path of Yoga."
"Marion (Mugs) McConnell has written a gem of a book that brings to life not only her central subject—the life of "forgotten yogi" Hari Dickman—but her own extraordinary presence on the yoga path. McConnell's yoga story starts when she's quite young, and possessed as she is with a strong intellect and even stronger sense of spirit in all things, she reveals the questions, challenges and amazingly transformational experiences of a woman who is entirely committed to exploring and living in various circumstances but always guided by the teachings she receives. Along the way we are treated to deeply insightful reflections on many of the lesser known but deeply profound aspects of yoga practice. This a personal story that celebrates the life of a devoted yoga teacher whose pupil – McConnell – is in today's world among the most brightly shining lights."
"This jewel of a book is a fitting tribute to a great soul, offered lovingly by his dedicated student. How fortunate that the yogic knowledge he gained from many revered teachers has been preserved so carefully and faithfully that it can enrich the lives of many spiritual seekers who otherwise would never have known of him."
"Some things should not be lost. Letters from the Yoga Masters is a uniquely valuable book containing wisdom and advice from most of the well-known and respected yoga masters of India in the 20th century. Mugs has done a commendable job preserving this knowledge and presents the stories and teachings in a very entertaining way."
"In this uniquely well informed book Marion McConnell provides glimpses into the modern history and practice of yoga that no one else could have given us. As the private student of an acharya who was himself taught by Swami Sivananda, Shyam Sundar Goswami,and other great masters, she was privy to exchanges of knowledge and wisdom known to no one else. We are lucky indeed that these precious letters have survived for our benefit."
"Letters from the Yoga Masters is an extraordinary presentation on yoga built around extracts from private letters written by Paramhansa Yogananda, Swami Sivananda, Ramana Maharshi, and others, to Dr. Hari Dickman, founder of the Latvian Yoga Society in the 1930s. McConnell offers clear instruction and enjoyable reading supported by rare original writings from these revered yoga masters. With research involving some 750+ letters, this book also provides insights into contributions of a pioneering advanced yogi during the historical spread of yoga teachings to the West. This book is a treasure for beginner and advanced yoga students."
"In Letters from the Yoga Masters Marion McConnell reaches past the sublime nature of her extraordinary spirit to that of her teachers. We all hold such gratitude toward our teachers—their spirits, their guidance, and the specific techniques we have practiced. Marion's book is wrapped in sweet gratitude—it is not only informative, but a guide to living with greater peace.  On a recent visit to Sivananda Bahamas ashram I was surprised to hear the beautiful voice of Marion McConnell during each of the twice-daily chanting practices. Marion is my most influential yoga teacher, and though she has not been back to that ashram in over 35 years, I was experiencing anew many practices she shared with us in her teacher training program. Just as I could hear her voice in those practices, in Letters from the Yoga Masters, she now shares the voices of her teachers, offering her gratitude to them, especially to Dr. Harry Dickman. Marion, my gratitude to you for this wonderfully written offering to us is beyond words."
"With so many books about "doing yoga" I feel it is commendable that someone with Marion's experience has meticulously documented the deeper aspects of yoga in Letters from the Yoga Masters, which in years to come will be a valuable and inspiring volume in the history of yoga in the West."