About our Team of Trainers
SOYA Lead Trainers are highly skilled, diverse and seasoned Yoga Teachers who are dedicated to continued study.  Some of the master yoga teachers they have had the blessing to study with include Dr. Hari Dikman, Swami Vishnudevananda, Pattabhi Jois, Namadeva Acharya, Erich Schiffmann, Rod Stryker, and Chris Chavez.  SOYA is proud to offer their students exposure to lineages and styles such as Ashtanga, Sivananda, Yin, Restorative, Anusara, Vinyasa, and other practices.  All Lead Trainers are E-RYT500 with the Yoga Alliance and Full Teaching Members of the International Yoga Teachers' Association (IYTA).  This eclectic group of trainers offer a diverse and expertly informed training experience for SOYA yoga teacher trainees.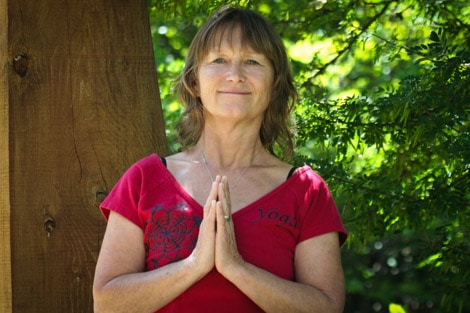 Marion McConnell
SOYA Co-Owner, SYVCA, E-RYT500, IYTA
Marion, or "Mugs" to all who know her, is one of Canada's Yoga Pioneers. She is the co-owner of SOYA with her husband Bob. In 2012 she was awarded a Queen Elizabeth II Diamond Jubilee Medal in recognition of her lifetime contribution to the Yoga community in Canada and abroad. She sits on the Standards Committee for Yoga Alliance and served as the Canadian Representative for the International Yoga Teachers' Association (IYTA) from 1982-2016. Mugs' early training was in the Sivananda lineage under Swami Vishnudevananda. She was the last disciple of Sri Yogiraj Dr. Hari Dickman. Namadeva Acharya played a huge role in her love and understanding of mantra, which she often combines with mudra. She has completed over 100 hours in Freedom Yoga teacher training with Erich Schiffmann, influencing her love of free-flowing yoga. Over the years her teaching style has been impacted by additional studies with Rod Stryker, Mark Stephens, Friedel Khattab, Dharma Mittra, along with many others.
She designed and directs the 200 hour and 300 hour Advanced SOYA YTT programs and leads master class workshops. Mugs is the author of the book "Letters From the Yoga Masters," which has become a textbook for all SOYA teacher training programs. She is a member of the Board of Directors for Yoga Alliance and their Standards Committee.
SOYA Yoga Teacher Training
see Letters From the Yoga Masters
Mugs' book Letters From the Yoga Masters: Teachings Revealed Through Correspondence from Paramhansa Yogananda, Ramana Maharshi, Swami Sivananda and Others", is published by North Atlantic Books. The book is available for purchase from online stores such as Amazon and Chapters, as well as from your local bookstore.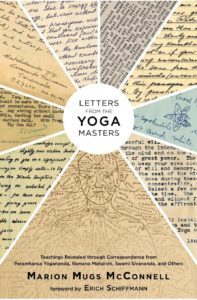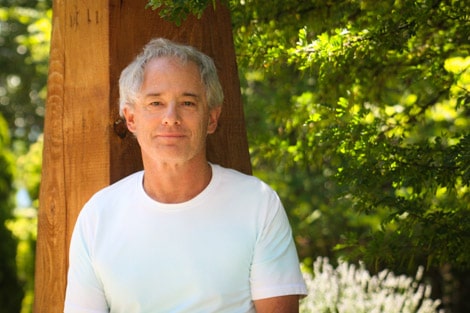 Robert McConnell
SOYA Co-Owner, SOYA200, HIYT500,
Bob is the co-owner of SOYA with his wife Mugs. He was inspired by Erich Schiffmann to deepen his practice in yoga and become a yoga teacher. In 2009 he completed his SOYA 200 hr YTT, and then studied extensively with Erich Schiffmann in 2010-2011, becoming certified in Freedom Style Yoga. During 2012 and 2013 Bob studied Tantra Yoga at the Himalayan Institute in Pennsylvania to upgrade to RYT500.
"Erich has influenced my yoga greatly over the last number of years. He laid the foundation. Now exploring the Tantric path is my current interest in yoga."
Over the years Bob has established himself in his personal practice of pranayama, meditation and asana. He has enjoyed deepening his knowledge of yoga through workshops with Rod Stryker, Dharma Mittra, Ganga White & Tracey Rich, and Mark Stephens. He continues to study Tantra Yoga with Pandit Rajmani Tigunait, PhD. Bob regularly teaches pranayama, meditation and asana for the SOYA 200 Hour and 300 Hour Advanced YTT programs.
SOYA Yoga Teacher Training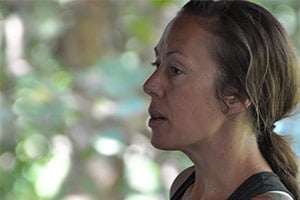 Kamala Wilkie
SOYA, E-RYT500
Kamala, a published poet, mantra enthusiast and avid adventurer brings her whimsical magic to every yoga lesson. Kamala's grounded and approachable sensibilities combined with her vast and accomplished repertoire, a broad and well-informed lineage ensure SOYA students depth and a quality to their studies. With over ten years of teaching experience, Kamala considers herself a life-long student who continues her own studies since her beginnings with SOYA. Some of her studies have included Okido Yoga, Ashtanga, Anusara and Yoga for Cyclists with many of today's most relevant and revered master teachers including Sri Pattabhi Jois, Tim Miller, Erich Schiffmann and Chris Chavez. She is a Lead Trainer for SOYA's 200 hour Immersion and Extended YTT programs in the Okanagan where she is the director and owner of Purple Lotus Yoga. She is also a lead trainer for SOYA's 300 hour upgrade.
SOYA Yoga Teacher Training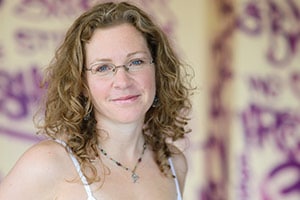 Carla Wainwright
SOYA, E-RYT500, IYTA
Carla started practicing yoga in 1995 so she could touch her toes. Eighteen years later she definitely can touch her toes, and is helping others nourish their own unique journey toward self-discovery. Her practice and teaching meld both classical and contemporary approaches to the practice with a particular focus on the mayakoshas as a means to merge with the Essential Self. She loves to work with women to help release their inner Shakti. Carla is a Doctor of Homeopathy and creatively integrates the principles of Yoga and Homeopathy to help unlock a student's deepest potential within.
She has studied with Mugs McConnell, Shirley Daventry French, Erich Schiffmann, Shiva Rea, Rod Stryker, Dana Flynn, Minke de Vos, Geeta Iyengar and many other wonderful teachers. Carla is a founding owner of Chinook Yoga in Prince George, BC, and a Lead Trainer for the SOYA YTT programs in Prince George and Mexico.
SOYA Yoga Teacher Training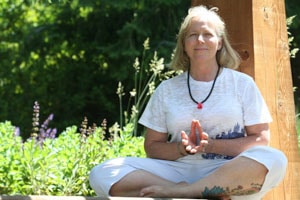 Helen Mikuska
SOYA E-RYT500
Helen brings over 35 years of experience in the fitness industry to her students, with a background in Pilates, Ayurveda and Food Nutrition Management. Her yoga journey began through the SOYA training with Mugs McConnell and Dariel Vogel. Her passion lies in the rich traditions of the path, which inspire her classical approach to her Hatha yoga offerings. A devotee of Bhakti yoga, Helen delights in kirtan and mantra, having studied mantra with her late guru Namadeva Acharya. Other teachers on Helen's path have included Aadil Palkhivala, Brad Waites, Gina Hager, Jennifer Weinert, Leslie Kaminoff, Dharma Mittra, Nischala Joy Devi and Susi Hately. Helen is the founder and owner of Harmony Yoga and Pilates Studio in Calgary, where she and Mugs are Lead Trainers for the SOYA 200 hour Immersion YTT program.
SOYA Yoga Teacher Training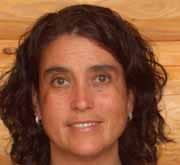 Cindy Szekely
SOYA, E-RYT500, IYTA
Cindy started practicing Yoga in 2002, and it was "love at first sight" practice. She completed the SOYA 500 hour Yoga Teacher Training program and now owns and operates Intuit Yoga in Mackenzie, BC. Her study with Susi Hately of Functional Synergy provided her a training in how to offer students a safe and comfortable approach to asana with modifications for all bodies. She loves the creative flow of vinyasa, the quiet release of yin, and the meditative quality of mindfulness yoga. Cindy is a Lead Trainer for SOYA's 200 hour YTT programs at Chinook Yoga Studio in Prince George, BC.
SOYA Yoga Teacher Training
Kapila Chugh
SOYA, YAA, E-RYT200, RYT500, IYTA
For Kapila, yoga is a way of life and it has been a transformative journey. She feels she has a bigger role to play in this Universe by having a positive attitude towards life and her fellow beings. Kapila's expertise includes laughter yoga, Yoga Thrive for cancer survivors and an honours degree in Hindi with a minor in psychology. Her passion is currently modifying yoga for health and well-being. With her roots in India and her branches in Canada, Kapila has an amazing ability to share the gems found in yoga philosophy. Her teachings incorporate gentle yoga poses to heal and build strength to develop the strong body and mind. Kapila is a Lead Trainer for the SOYA YTT programs in Fort McMurray.
SOYA Yoga Teacher Training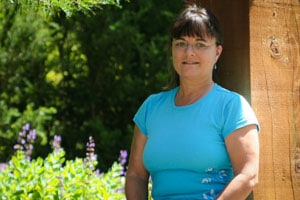 Dorothy Fizzell
SOYA, E-RYT500, IYTA
Dorothy began her yoga journey over 30 years ago. As a long-time student of Mugs she was one of SOYA's first RYT graduates! Dorothy's yoga career has had many outlets. As an Early Childhood Educator and her love of traditional Hatha yoga she blended her yoga wisdom to develop and teach yoga workshops for young children. At the same time she pursued a path of Karate and has since achieved Shodan level and her first level black belt in Chito Ryu Karate. Her teaching style is eclectic and dynamic. Dorothy helped establish the SOYA Yoga Teacher Training in Vancouver in 2005. She currently is the Lead Trainer for the Vancouver Program and the SOYA Distance Education YTT program out of Pitt Meadows, BC. Currently she serves as the Canadian Representative for the International Yoga Teachers Association.
SOYA Yoga Teacher Training
Natasha Scott
SOYA, E-RYT500, IYTA
Natasha Scott graduated from the SOYA 500 Hour training in 2009 with a specialty in prenatal yoga. Since then she has continued her prenatal studies becoming certified by Janice Clarfield, and offering amazing yoga classes for kids. She is a certified prenatal yoga teacher with Yoga Alliance (CPYT). Never one to stop learning her enthusiasm to serve others led her to specialize in Yoga for Chronic Pain, certified by Neil Pearson.
Natasha teaches a wide range of Hatha Yoga with a strong background in Sivananda (from her Teacher Mugs). She is a Certified Thai Massage Practitioner (Metta in Motion with Mia Blackwell), and also a Reiki practitioner. She brings all of these yoga tools to her classes to create a full yogic experience. Natasha is a Lead Trainer for the SOYA YTT Immersion at God's Mountain Estate near Penticton.
SOYA Yoga Teacher Training
Gail Thompson
SOYA, E-RYT500, IYTA
Gail's yoga practice was initiated by watching Erich Schiffmann's video "Yoga, Mind and Body" which she picked up on a whim! It was love at first practice! A need to learn more yoga philosophy led her to take teacher training. She is committed to creating a supportive space for students to explore self-awareness, self-acceptance, and inner presence through breath, movement and stillness. She teaches hatha yoga from dynamic to restorative with playful encouragement. Gail is influenced by the teachings of Erich Schiffmann, Marion McConnell, and Rod Stryker. She completed her 500 hour teacher training with SOYA and Freedom Yoga with Erich Schiffmann. Teaching for more than a decade, she is a an ERYT-500 with Yoga Alliance and a full teaching member with International Yoga Teachers Association. Gail is lead trainer for the SOYA 200 hour yoga teacher training in Creston, BC
SOYA Yoga Teacher Training
Jools Andrés
SOYA, E-RYT500, IYTA
Jools has had a dedicated yoga practice since 2002 and started teaching in 2010. She has studied with Erich Schiffmann, David Swenson, Judith Hanson Lasater, Neil Pearson, and Robin Rothenberg, earning teaching certifications in Freedom Yoga, Ashtanga Primary Series, Experiential Anatomy, Trauma-sensitive Yoga, Yoga for Back Care, and Restorative Yoga. She holds a degree in Depth Psychology and Creative Writing and has completed two 200-hour YTT certification programs.
A professional writer and editor since 1985, Jools was chosen as editor for SOYA co-founder Mugs McConnell's acclaimed book Letters from the Yoga Masters. This excellent affiliation led to 500-hour certification with SOYA in 2014. She is a registered E-RYT 500 and YACEP with Yoga Alliance. In addition to her current teaching, writing, and editing work she is enrolled in a 1000-hour Yoga Therapy program in Vancouver, BC and Chennai, India, completion est. 2018.
Co-owner of Wild Onion Retreats, Jools offers Creative Embodiment yoga and art workshops and retreats in Canada and Mexico. Co-leading SOYA's 200-hour extended Yoga Teacher Training program with Dorothy Fizzell is a yearly highlight for her.ell.
SOYA Yoga Teacher Training