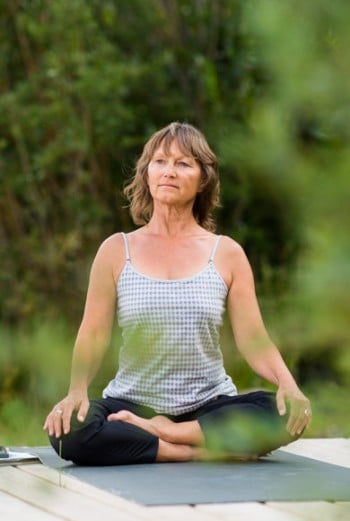 2014 workshops with Marion (Mugs) McConnell, E-RYT500.  All workshops are eligible for Continuing Education Units for Yoga Alliance and the International Yoga Teachers Association.
CALGARY, Alberta:   March 29, 9am-4:30pm
Exploring Classical Sivananda Yoga & The Five Tibetan Rites
The ancient yoga texts claim there are 840,000 different yoga asanas (poses), many of which are variations designed to deepen one's practice according to  ability.  Swami Sivananda focused on 12 of these asanas and put them into a specific sequence to balance the bodily systems, stimulate the chakras, and aid in the flow of prana (the life force).  Many variations are possible, but the sequence remains the same.  The Sun Salutation is  fundamental to this system of yoga.
The "Five Tibetan Rites" are unusual rhythmic movements developed thousands of years ago by Tibetan Monks. Performing the Five Tibetan Rites stimulates the circulation of the "prana" (the life force) throughout the body, encouraging health in every facet of life including thoughts, feelings and physical well-being.    Both Sessions include pranayama, meditation and mantra.
Held at Hillhurst United Church, 1227 Kensington Close NW, Calgary.  $110 including gst.  Contact Beth Workman to register. 403-202-0106  |  studioajna@me.com
PENTICTON, BC:  May 3, 9am-12:30pm
Finding Prana in Your Practice
Can we feel "prana", the life force move within  the body?  How do we move prana?  How does this change our practice?
Asanas release blockages within the energy channels. Pranayama directs the prana.  By coordinating breathing and movement in simple postures and then observing the effects, we can begin to identify the prana within the body!
We will end the morning with some mantra meditation to raise the vibratory level of our thoughts.
Held at Purple Lotus Yoga Studio, 365 Van Horne St. Penticton BC.  $50 including gst.
Contact Kamala to register 250-493-0054 |  info@purplelotusyoga.ca
PRINCE GEORGE, BC:  October 4-5, 2014
October 4th, 9am – 4:30pm   Mandala Salutation and Meditation
In various spiritual traditions mandalas are a sacred space and used as spiritual tools. They are often geometric patterns created as symbols for meditation, protection and healing. The Sanskrit meaning of "mandala" is both "circle" and "center", implying that a mandala represents both the visible world outside of us and the deep invisible world inside our minds and bodies.
October 5th, 9am-1pm Teachers Workshop: Mudras
Beyond the perfection of Asana awaits the practice of "Mudras". Basic asanas like bridge pose, seated forward bend, and bound angle pose are foundation poses for many mudras, transformed by adding some breathing techniques, bandhas and chakra visualizations to increase and direct the flow of prana.
Chinook Yoga Studio, 320 Vancouver St, Prince George
Contact Carla Wainwright
| 250-564-9642| hatha@chinookyoga.com |